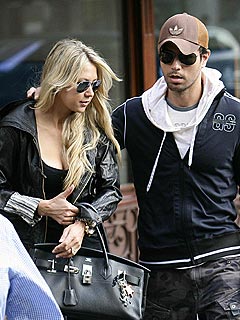 Enrique Iglesias, 36, and tennis player Anna Kournikova, 30, who've been dating on and off for almost eight years, were spotted Thursday afternoon at the Cartier Champs-Elysees boutique in Paris – once again prompting speculation the longtime couple may be getting married.
The pair spent 40 minutes inside the high-end jewelry store, but it's not known if they walked away with a new bauble for Kournikova. Though Kournikova has dodged engagement rumors in the past – she told PEOPLE in April 2008 that she was "
never getting married
" – Iglesias has been vocal about his desire to marry her. "
I always try, but she pays me no attention,
" Iglesias told reporters a couple of days later after Kournikova made her comments.
Rumors circulated in 2004 that the pair got married in a secret ceremony in Puerto Vallarta, Mexico – Kournikova was photographed wearing a wedding band on her ring finger at the time – but the reports proved not to be true.
The couple continued to face speculation in May 2007 when Iglesias told a Swedish newspaper, "
We're divorced. I am single now, but that's okay. I don't mind being alone.
" He later retracted his quotes and told reporters it was simply a joke.