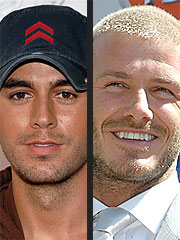 Add one more major name to hop the David Beckham bandwagon:
Enrique Iglesias.
"
He's a great guy, really down to earth,
" the Latin crooner – and soccer fan – tells PEOPLE. "
I think he can do for soccer here what Wayne Gretzky did for hockey and Michael Jordan did for basketball. If anyone can further the sport here in America, David Beckham is the man.
"
Iglesias, 32, solidified his opinion of the new arrival to these shores after a chance encounter with the Beckhams Saturday night at Hollywood's Chateau Marmont. Iglesias was dining at the hotspot, while the sports star and his wife, Victoria Beckham were with friends nearby.
It was the Beckhams – hand in hand – who first approached the singer's table.
A source aware of the get-together says of Iglesias, "
So immediately he was quizzing David about his playing days starting in England. They were talking World Cup and all that.
" But Victoria soon turned the tables on the pop star, teasing him to open up about his notoriously private love life with Anna Kournikova.
"
Victoria was like, when are you going to get married? What's the deal with you and Anna?
" says the source. "
She was like, what's the real deal, you can tell me.
" As for Iglesias's response, like a deft soccer goalie, he gracefully batted the questions back without answering.