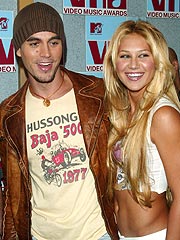 Lost in translation? Enrique Iglesias sparked a slew of breakup rumors when he told Swedish newspaper Aftonbladet that he and Anna Kournikova had been secretly married – and were now divorced.
"
We're divorced. I am single now, but that's okay,
" he told the newspaper. "
I don't mind being alone.
"
But a Kournikova pal tells PEOPLE that Iglesias was only joking, and his rep adds that, after five years, "
They are still together.
"
In 2004, rumors circulated that the singer and the Russian tennis player, 25, had tied the knot in a secret ceremony in Puerto Vallarta, Mexico, but a source told PEOPLE at the time that it wasn't true. Just last month, Iglesias, 32, told PEOPLE en Español his romance with Kournikova, 26, was "
the only serious relationship I've had in my life.
"
But when asked if he sees himself with her down the road, he said: "
I don't know. The only thing I can say is that, in my opinion, Anna, whether we are together or not, would be an ideal mother.
"
They haven't split up! Anna Kournikova, celebrating her 26th birthday at Miami's China Grill along with Enrique Iglesias and 15 friends. The duo didn't leave each other's side all night. The group feasted on crackling calamari salads, the duck two ways, a small Peking duck salad and the curry miso black cod. For dessert, the chef sent out a sweet tasting for everyone.