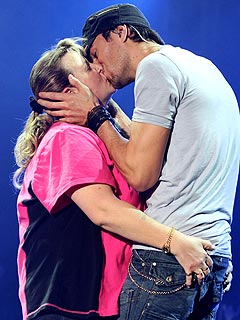 Female fans of Enrique Iglesias are some very lucky ladies.
The Spanish popstar, 35, often gets so carried away while performing he freely gives away kisses to audience members. In July, Iglesias had a young girl named Melissa "thinking dirty thoughts" when he sang "Hero" to her and kissed her after his performance on the Today show.
Just last week, Iglesias kissed another fan at the Jingle Ball concert in Boston. Then he kept up his smooching spree by locking lips with yet another fan at the Y100 Jingle Ball concert in Sunrise, Fla., on Dec. 10.
Iglesias sat down with Kiss108 radio shortly after the last two smooch-fests, and explained the thought process behind his random acts of romance.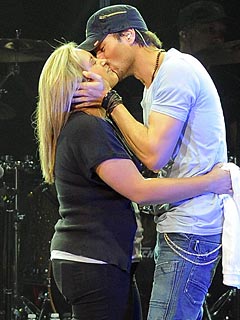 "I just get excited when I go on stage," Iglesias says. "I don't do it all the time. I've got to be in a good mood, and I was in a good mood. There was no tongue."
Cheryl Lavoie, 41, the lucky fan who got kissed on Dec. 9, "It was the best night of my life. I did not expect whatsoever to be pulled up on stage from him. It was priceless."
Lavoie, who was with her husband at the show, says Iglesias checked in with her hubby before making his move.
"He looked at my husband and asked if it was okay, basically," she says. "He's like, 'I'm going to kiss you now.' And I was like, 'Oh my God, I'm gonna have a heart attack!' He's got such soft lips. It was just a nice, sweet kiss."