Stars & Their Pets: 'Purr-fect' Moments of 2011
He can be your waverunner, baby!
Away we go! Wave Rider Enrique Iglesias takes to the water with Lucas in Miami.
The singer plays co-pilot to his German shepherd Tuesday while riding a Jet Ski. Iglesias lets his German shepherd lead the way during a September spin along the Miami coastline.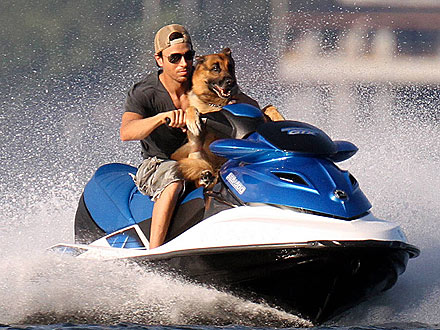 Spotted: Enrique Iglesias Jet Skis with His Dog 'Lucas'.
Enrique Iglesias and his pooch, Lucas, jumped on a jet ski and hit the water on Monday in Miami Beach, Fla. The German shepherd looked cool as a cucumber as the singer steered through waves while a video crew's cameras rolled.
Think he knows how to swim? Smoldering singer Enrique Iglesias keeps it casual while boating and bonding with his German shepherd.