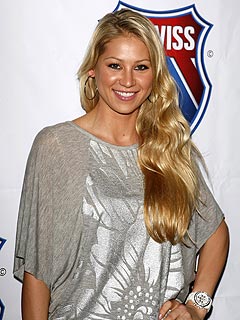 Anna Kournikova keeps in shape for her job as a tennis pro, but she says exercise helps her remain positive, as well. "
I feel great when I sweat and get all the negative energy out,
" she told PEOPLE at the opening of KSwiss's new store in Santa Monica, Calif.
For the athlete, focusing on doing "weights and machines to keep the muscle mass on" is important, but the other benefits of fitness are just as rewarding. "It's all about building muscle and feeling good about yourself," she says. "
I do some cardio but very little, just to relieve the stress and sweat.
"
Kournikova has competed against some of the world's top-ranking tennis players, but off the court she's also faced some tough battles – including Internet speculation about her weight loss, which she says, "
really doesn't affect me.
" "
You know that you're a public person. You know what you're getting yourself into and you just have to be okay with yourself,
" she says. "It's just somebody's opinion and you just can't focus on that."
As for her relationship with longtime boyfriend Enrique Iglesias, Kournikova simply says that "everything is good." (The couple recently dodged rumors they were engaged.) And with both of their busy schedules, "it's just really important to understand each other."