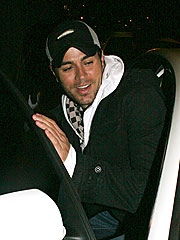 Enrique Iglesias emerged without a scratch after his flight over the Atlantic was forced to make an emergency landing.
The Spanish pop star, 33 – on a promotional tour of Europe after the release of his greatest hits album – was aboard a plane from the U.S. that was forced to shut down one of its engines before being diverted to Luton Airport outside London, reports Britain's Press Association.
The singer's agent said, "
The highly skilled pilots managed to make a safe landing and nobody was hurt.
" A rep for Iglesias's Polydor label confirmed no one was injured.
The air scare comes a month after Travis Barker and DJ AM miraculously survived a private-plane crash in South Carolina that claimed the lives of two crew members and two other passengers.
– Caris Davis
(Thanks a Tonne to God for saving him..God Bless* our Hero : )