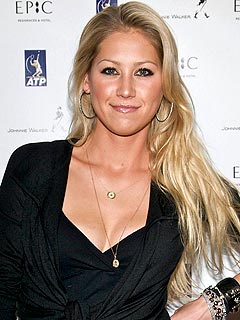 Ten years ago, she reigned as the unavoidable golden face of pro tennis, but now that Anna Kournikova hasn't played a WTA Tour match in five years, she's enjoying her time away from the limelight – while swatting away some persistent rumors.
"
I'm not married, not pregnant, didn't have a boob job, no Botox. What else?
" Kournikova, 27, tells Sports Illustrated.
The tennis phenom paved the way for the similarly glamorous likes of Maria Sharapova, but never earned a substantial victory on the courts. She left the sport in 2003, but says she and longtime boyfriend Enrique Iglesias still have to deal with paparazzi and gawking fans.
"
Girls look at him. Guys look at me,
" Kournikova says. "
It goes with the job, but it gets annoying when you feel violated. Just take the picture and be done.
"
As for feeling pressure to always look perfect, the athlete says she doesn't understand that obsession. "
Why are people afraid of getting older? You feel wiser. You feel more mature. You feel like you know yourself better,
" she says. "
You would trade that for softer skin? Not me!
"
– Michael Y. Park