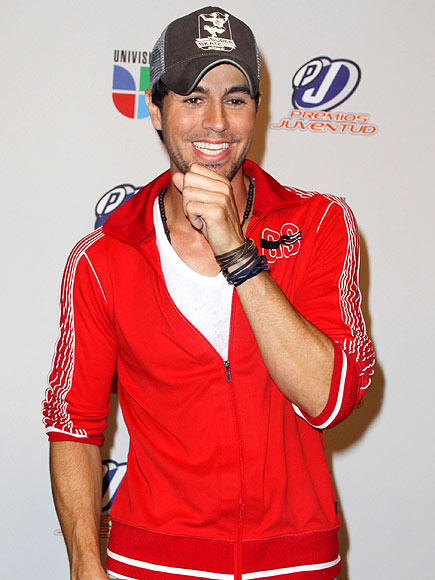 For Enrique Iglesias~

The upside: His beloved Spain had won its first World Cup Soccer Title.

The downside: Now, he was to water ski naked in front of the entire city of Miami – as he promised he would if the team won.

"

If Spain wins, I'm going to get drunk and ski naked in Biscayne Bay,

" the Spanish heartthrob singer, 35, told the BBC on June 23. At that point, the Spanish team had already lost a game and were in danger of not progressing to the knockout phase. But of course, they did progress – all the way to Sunday's final, where they beat Holland 1-0. Now, Iglesias says he's willing to follow through on his pledge, telling Access Hollywood: "

A bet is a bet!

" It's not clear when Iglesias might make good on the promise, but if he does, it won't be the first time he's skipped through the waves in the buff. "

That is what we used to do when we were kids,

" he told the BBC. Of course, he can probably expect a larger audience this time around.

Enrique Iglesias Water Skies Naked, As Promised.

Seems like Enrique Iglesias is a Man of his words. The singer, who vowed he would water ski naked in Florida's Biscayne Bay if his beloved Spanish soccer team won the World Cup back in June, did just that at the end of July. When the sexy singer said he'd water ski naked if Spain won the World Cup, people were skeptical that he would actually deliver. Turns out, he has every intention to follow through.

"

I need to get my Brazilian wax before I do it,

" he joked to PEOPLE at the 150th episode taping of 'So You Think You Can Dance'. "

Actually, I'm just waiting for a day off. A bet's a bet.

"

Added the singer: "

I used to do it in high school, so what's the big deal?

"

And while there have been rumors that the police will be patrolling for a fully-exposed Iglesias, he plans on warding them off by choosing a dark night to take the plunge in the Biscayne Bay. "

I never got arrested in high school for doing it,

" he said while also wondering, "

Can you really get arrested for skiing naked?

"

Enrique Iglesias was Worried About Sharks – and Grooming – Before Water Skiing Nude

.

Enrique Iglesias has kept his promise – and hit the bay in the buff. One other concern? "

The water's hot in Miami,

" he said. "

The only thing I'm worried about is if you fall at night, there's sharks in the water.

" Despite his concerns about sharks and law enforcement, Iglesias, 35, made the late-night ski trip with a video camera to record the stunt. Though the footage, originally posted on TMZ, is dark and shaky, the singer is clearly nude – and possibly freshly groomed. But is it really him in the video?

Reports would not confirm. but they did say that the singer was in Miami the last week in July.