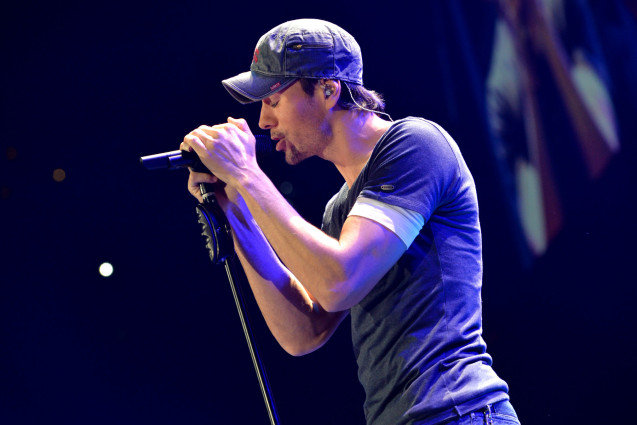 Enrique Iglesias says he'll need to fly to Los Angeles for butt implants after his Summertime Ball performance. The 'I Like It' star confessed to be very nervous before taking to the Wembley stage but calmed his nerves with "one, two or a maximum of three drinks!"
He then went on to make it a night to remember for one girl who joined him on stage for a passionate rendition of 'Hero'. The chosen girl got plenty of kisses from Enrique and the chances to touch and squeeze his bottom.
But now Enrique's wondering if she left disappointed. He told The Bassman on Capital FM, "I am going back to LA to get butt implants."
Enrique also revealed that bringing a girl up on stage is never rehearsed, "In fact much of what I do on stage isn't rehearsed" he joked.
Enrique Iglesias quips: I'm getting butt implants
Enrique Iglesias put on a raunchy performance at Capital FM's Summertime Ball at the weekend.
The singer has been known to snog fans on stage in the past and mid-performance at Wembley Arena yesterday, Enrique, 36, pulled a female admirer out of the audience and - just for a change - let her cop a feel of his rump.
After the show, he told Capital FM's Bassman: 'I am going back to LA to get butt implants.'
But 18-year-old Sophie Elphick from Amersham has no idea why. She was very impressed by the singer's firm buttocks.
'No guy will ever live up to him now...' Sophie Tweeted this morning.
'Apparently he wants bum implants. makes no sense! x'
In 2007, Enrique stunned female fans by confessing he had a weeny willy.
The heartthrob claimed that if he could alter one thing about his body, it would be his manhood.
But the following year he insisted he'd been joking.
'When people find out it's not the case,' he explained, 'they're pleasantly surprised.'