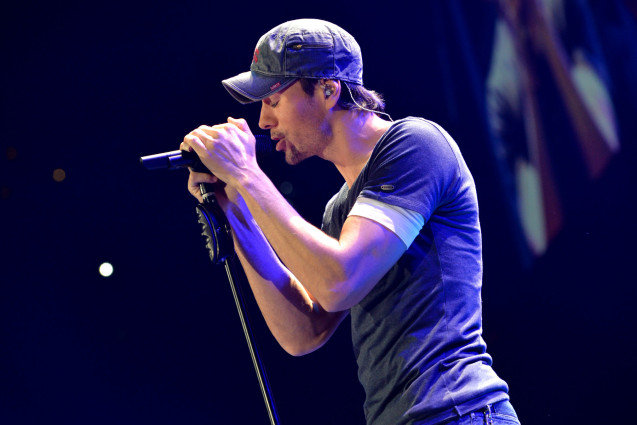 This Latin heartthrob has set many hearts a-flutter with his drop-dead gorgeous looks and soulful gaze — and, of course, his singing. He gives 'love' a new meaning every time he sits down to compose a track, which eventually, rules the music charts across the globe.

Enrique is not sure about what makes his music clicks with his fans, he is glad that India has always given him so much love. "When I hit the stage I do what I truly love. Perhaps it's the crowd," he expresses.
Enrique has collaborated with celebrated Bollywood vocalist Sunidhi Chauhan on a special remix and video for the track Heartbeat, which features on the Indian edition of his album Euphoria. Ask him if this year he plans to work with any Indian artistes, and he replies, "I'm open to working with Indian artistes. Any suggestions from you or the fans?"
So do we get to see him in the Bollywood music scene soon? "I love collaborating with different artists and think it would be a great experience. I have heard many, and seen many videos, and am a fan for sure."What's in store for his fans in the coming future?

The Grammy award winning singer Enrique Iglesias chats about his three-city tour in India, and what makes him green with envy.

Pop idol Enrique Iglesias performed live in Pune, Gurgaon and Bangalore on the 17th, 19th and 21st of the month of October '11 in India. The Hero singer, who performed in the country for the second time, talked about his plans for the tour, acting and what makes him so dishy to the ladies.

Excerpts from an interview:

What's in store for your fans in the upcoming tour?
"I`ve been looking forward to this trip for years. I`ve been trying to come back for a while, and just waiting for the right opportunity. Besides the show, I`m looking forward to the fans that are so amazing and enthusiastic, as well as the great food,"
"I am very excited about Micromax Enrique Iglesias tour. I am very excited to come to India. Fans can definitely expect a lot of surprises and some great new productions. I can't give away more than that. You'll just have to come and see for yourself."

You've collaborated with singer Sunidhi Chauhan in the past. Will you be collaborating with Indian artists during this tour?
I'm open to work with many artists. Any suggestions from you or the fans? If the song was right I would definitely be down.

You'll be in India for a few days. Is there some place you'd really like to visit, or any souvenirs to take back?
I won't really have any time for sightseeing. The only "souvenir" I care about is just knowing that the show went great and everyone was happy.

You declined an offer to judge the reality TV show American Idol...
If the time was right, I would definitely have been honoured. I am a big fan of the show.

Your thoughts on Bollywood music?
I have heard many, and seen many videos, and am a fan for sure.

What do you think makes you such a hit, especially with women?
I have no clue! Perhaps you can tell me.

You've had a short acting stint in movies and TV shows. Will we see you take up acting seriously?
I am always open to opportunities. Acting is a talent that I respect very much, and am envious of those who have it in them. I would definitely be open to give it a shot.

Let's talk about your album Euphoria...
Euphoria was an amazing run for me. The world tour was "epic" in a sense for me, and I hope my fans enjoyed the shows as much as I did. I was also fortunate enough to collaborate with some amazing artists like Pitbull, Juan Luis Guerra, Wisin and Yandel, Nicole Scherzinger, Lil Wayne, Lionel Ritchie, and others. It was a truly incredible experience.

Enrique`s songs have featured on a number of films and TV shows including `Bailamos` on 'Wild Wild West' and other shows like `Scrubs`, `How I Met Your Mother` and most recently the hit music series `Glee`.

He has tried his hands on acting as well with the film 'Once Upon a Time In Mexico'.
"I am always open to any opportunities. Acting is a talent I respect very much, and am envious of those with such talents. I would definitely be open to give it a shot."